When it comes to sourcing exquisite wedding stationery, one really needs to look no further than Leeming Brothers. With craftsmanship that's unrivalled by anything that the modern age can throw at it, they deliver stationery that boasts the highest quality and attention to detail, combining luxurious print methods with super thick boards.
So, when the opportunity arose to sit down and interview their Director, Lewis, we couldn't have been more delighted. Our time with him didn't disappoint; Lewis gave us a fabulous insight into the world of designers and printers of the finest stationery…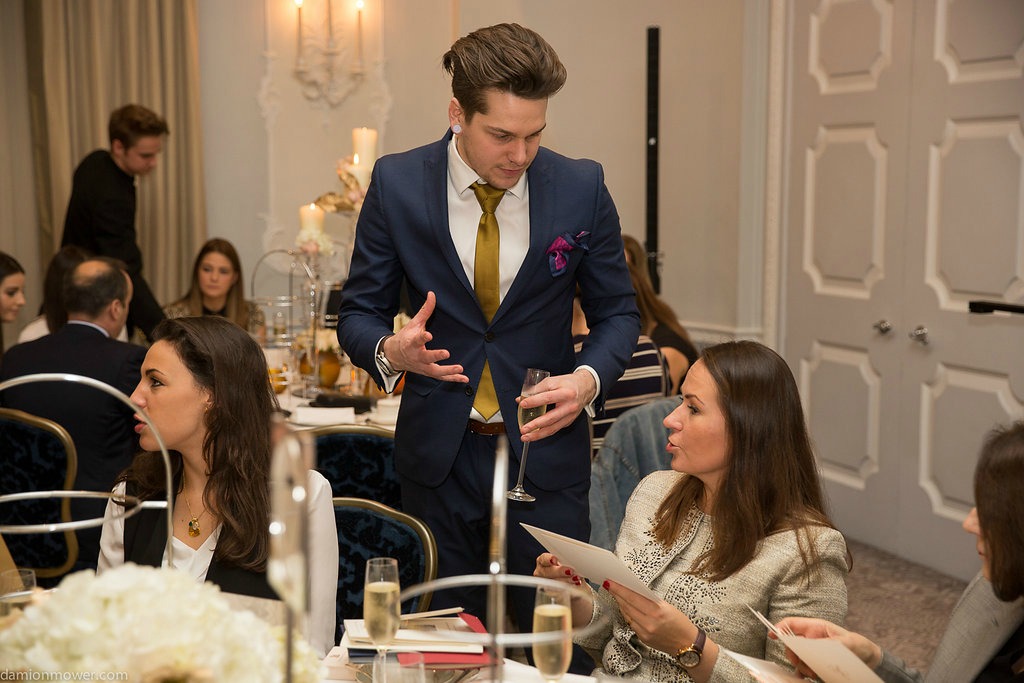 Lewis Stevenson of Leeming Brothers - Photo Credit Damion Mower
With 200 years of experience between you, your team is highly experienced. How long has Leeming Brothers been trading and how did it all begin?
Nearly 20 years ago Matthew Leeming had the idea of creating the finest stationery and of keeping the art of letter writing alive. Initially producing mainly personal luxury stationery, in response to requests, he began to produce wedding and event stationery. As Leeming Brothers' reputation grew, so did the team. We already had our master printers: Kevin, who has been producing engraved stationery for over 50 years, and Neil, who was Kevin's protégé. I joined the team 6 years ago, learning from Kevin and Neil, first golden gilt edging then engraving and die-stamping. I spent 4 years as an apprentice in the workshop before the opportunity arose to run Leeming Brothers. I jumped at the chance and have now been doing so for just over 2 years.
Your business enjoys an incredibly enviable reputation. What do you feel sets it apart from other stationers?
There are two things. The first is that we design and produce all of our stationery ourselves. Nothing is outsourced. Over the years we have put together a workshop to rival any, with die-stamping presses, foiling and letterpress platens, lithography and thermography machines, gilding, colour edging, and in house engraving. Having all these processes under one roof means that we have quicker turn-around times and complete control of all orders. We simply walk downstairs to the workshop and check how each order is progressing. The second thing is our attention to detail. I usually meet wedding clients personally to get to know their likes and dislikes, and what kind of wedding they are planning. Our team will then put together some designs and proofs. Once signed off, the stationery is printed by hand, and meticulously checked over, one piece at a time, to ensure it is of the highest quality, before being dispatched to the client.
How would you describe your catalogue, style-wise?
Our catalogue has changed quite a lot in recent years. We still produce our stunning traditional hallmark designs but have also introduced more modern options. We can produce both a quintessentially British hand engraved invitation, a modern multi-coloured city wedding style set, or a mix of the two. The options are endless.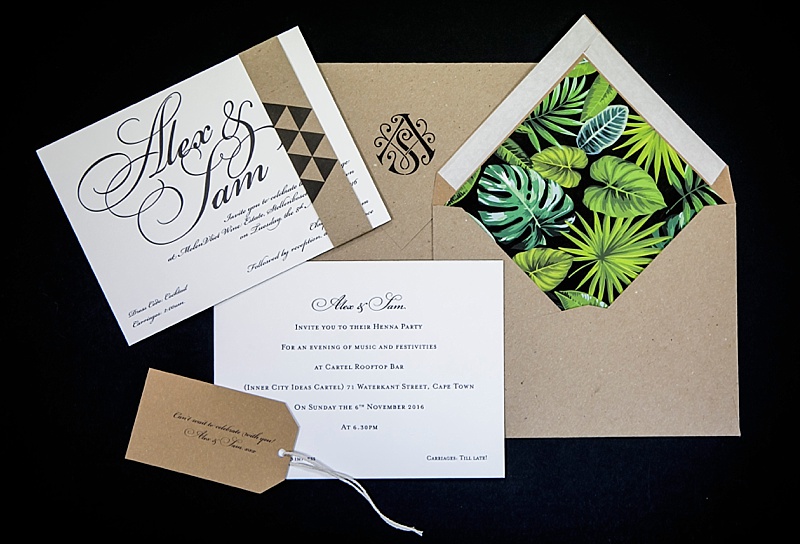 What can couples expect to experience when they order wedding stationery with Leeming Brothers?
The first part of the process is usually a consultation with me, over a cuppa or a few glasses of wine, during which I get to know the couple and explain all of the options and processes available to them. After this, I put together a quote of some different options. Once a quote is accepted, we design the invitation suite based on our discussions. Then, the proofs having been approved, we produce the chosen stationery, which is ready 7-10 days after the proofs have been signed off.
Is there anything that you wholeheartedly recommend a couple should bear in mind when making stationery selections?
My main recommendation would be to do a little research first. A lot of couples think they know exactly what they want, but once they come to the studio and look over all of the options available to them, they are usually then stumped! If the couple has looked around at a few different invitation styles, usually from Instagram or Pinterest, I can then suggest some styles and print methods to create a personalised suite just for them.
Many couples are indecisive about the look and feel of their wedding stationery. What do you suggest are the key things they should consider prior to making a final decision?
I suggest that the couple ask for samples of the process and board they are considering. Couples may have heard of the different print processes, but do not actually know the differences between them. A stationer can explain each process in detail so embossing or debossing, metallic or matte finishes can be chosen. A stationer can also recommend and supply samples of boards, that will suit the style of stationery selected and explain which processes will compliment which boards, as some methods will not work on certain board colours or types.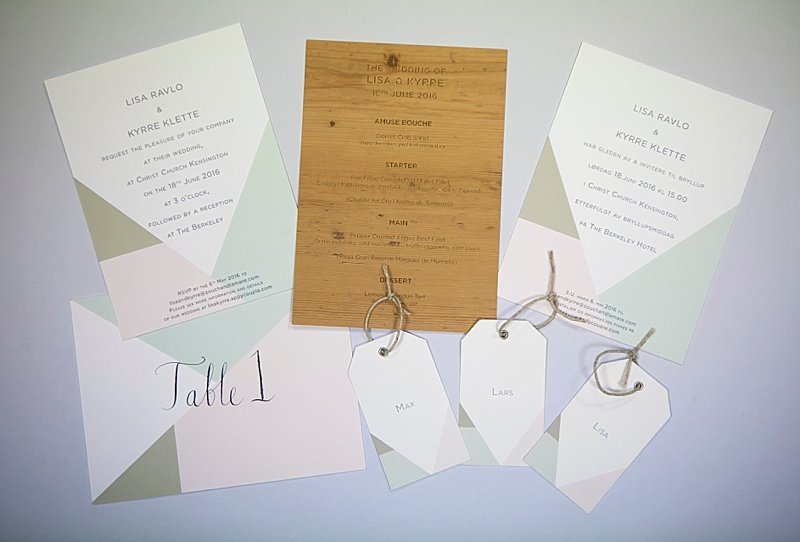 How far in advance do you suggest that couples order their wedding stationery from you?
This depends on whether couples have chosen to have a save the date card or just wait and have the full wedding suite. Save the dates should be sent out around 8 months before the wedding day. Unless you are having a destination wedding, in which case the invitations should be sent as early as possible to allow friends and families to save and book flights and accommodation without risk of missing out, wedding invitations should be sent out 3 months before the wedding day, so ideally you should start speaking to your stationer 4 – 6 weeks before this. This will give you plenty of time to have initial ideas and proofs out of the way, and then time for the stationery to be produced.
How many different designs do you feature in your wedding collection? Do you accommodate bespoke orders?
We have 12 official designs in our collection, some of which can be tweaked a little, but most of our stationery is bespoke.
Do you have a favourite design of wedding invitation? If so, what is it, and why?
I love all we produce, but my favourite will always be engraving. The most expensive option, its quality simply cannot be replicated. A master stationer produces each piece of engraved stationery by hand. The detail that can be achieved is second to none, and it is also highly versatile. Engraved stationery enhances both traditional and modern weddings.
What's your preferred printing method for wedding stationery, and why?
Each print method can be tailored to any style of wedding, but some just sit together perfectly. For a countryside rustic style wedding, then letterpress, a beautiful print method, the first ever invented, is the option. It dates back to the 1400s, and was used to produce newspapers. Nowadays it is used to create stunning debossed stationery. It works really well on soft textured boards, and can be easily paired with craft boards to add to the rustic feel.
Do you think certain styles of weddings are best suited to certain stationery designs and printing methods? If so, can you provide some examples of excellent pairings?
Modern city weddings are perfectly suited to hot foil stamping. Foiling can produce beautifully intricate designs, and also achieve metallic finishes. With letterpress you are confined to matte inks, but foiling is available in many different metallic shades, which work on any colour of board, so there is little to hold back your ideas and our designs.

How often do you update your collection with new designs?
Officially, I update our suites twice a year but we regularly come up with new ideas and designs. We usually design new styles each week, thinking up ways that we can push the boundaries of what we are able to produce. Of these designs, a few will make it to the end stage each month, and be shown to clients through our website and social media pages.
What are the stationery key trends we can expect to see appearing at weddings in 2017? Which of your styles are brides particularly coverting?
We have noticed the first part of the year was taken over with floral designs. We produced so many different types, that our office display is full of them! In the later part of the year however, pastel colours have become extremely popular, mixing a large pastel pallet rather than just having one or two colours throughout a suite. Rustic craft styles are also making a comeback, as well as assorted suites. Previously the unwritten rule was that wedding suites always had to match but couples are now choosing to mix things up, with a few different colour choices, and a few different fonts, spread over multiple board colours and textures.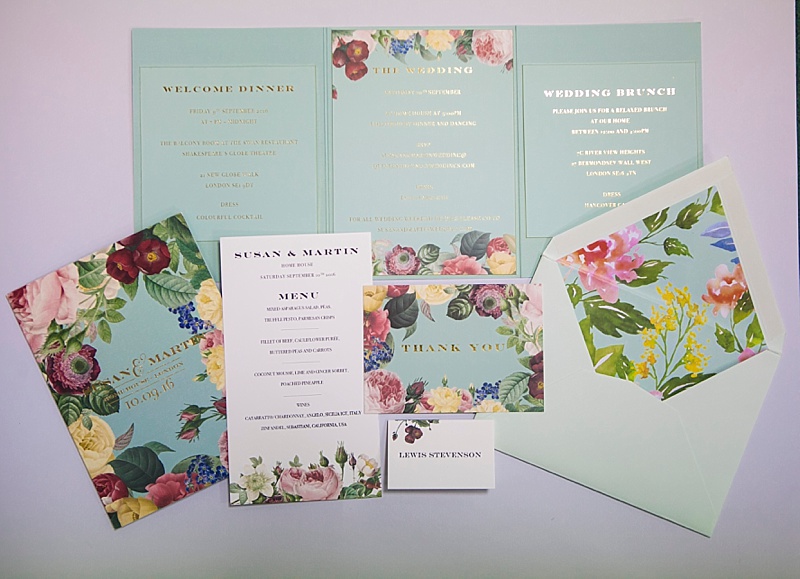 For further details on the full range of stationery options available visit Leeming Brothers website at www.leemingbrothers.co.uk